Ben Vautier
"Is everything art?"
Museum Tinguely, Basel, Switzerland
October 21, 2015 - January 22, 2016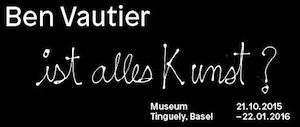 Ben Vautier has been on the scene since the late 1950s as an artist, performer, organizer, linguistic inventor, and re-thinker of art. He is one of the pioneers of the Fluxus movement in Europe and, as a comrade-in-arms of the École de Nice, a close friend of artists such as Arman, Yves Klein and Martial Raysse. He is known for his text images, which, using brief, pithy phrases, equally question and challenge life and art. Museum Tinguely dedicates Ben Vautier's first comprehensive retrospective in Switzerland. Alongside an overview of the first 20 years of his creativity, Ben sets up in Basel more than 30 rooms as he comments on various social, artistic, and political topics and takes a stance. In total, the show exhibits from 21 October through 22 January, 2016 far in excess of 500 works by the artist, who is still very active to this day...
Read more: