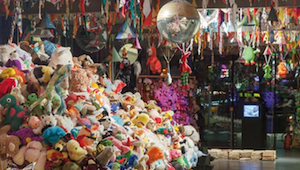 Charlemagne Palestine
"GesammttkkunnsttMeshuggahhLaandtttt"
Kunst Halle, Vienne, Autriche

18 septembre - 8 novembre 2015

American-born Charlemagne Palestine is a composer, musician, performer and visual artist. Already in the 1970s he composed repetitive music that clashed with the expectations of Western audiences. His early works were mostly compositions for glockenspiel and electronic musical instruments, but his best-known works are his piano pieces in which short sequences are repeated endlessly and variations appear only gradually. Although he was linked to musicians such as La Monte Young, Terry Riley, Philip Glass and Steve Reich, he rejected the minimalist label and instead created the term "maximalism" for his compositions.
In the 1970s, Palestine also produced a series of psychodramatic video works in which he activated the body through a symbiosis of sound and movement and gave expression to inner qualities. He often took his explorations to a point of physical and mental exhaustion. His performances and music videos repeatedly feature emblematic objects such as teddy bears, cognac bottles or scarves, which function as signatures and become "identification symbols". In recent years, Palestine has worked chiefly with musicians such as Pan Sonic, David Coulter, Tony Conrad and Michael Gira. He has issued more than twenty solo albums and played at festivals throughout the world.
Curator: Luca Lo Pinto
http://www.kunsthallewien.at/#/en/exhibitions/charlemagne-palestine