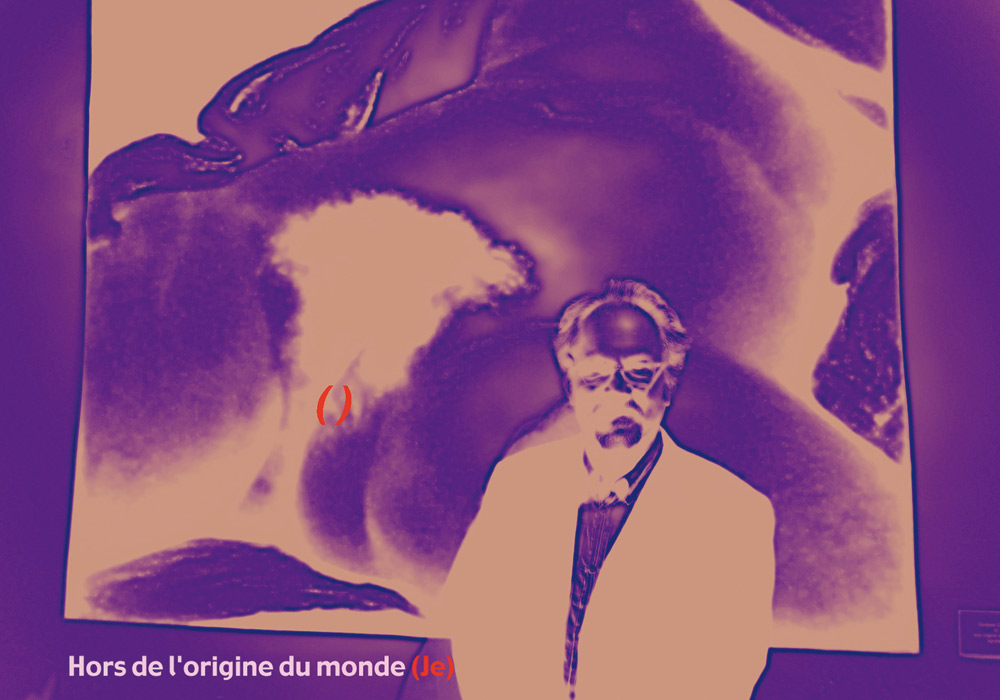 © Julien Blaine, 2016

In Ornans, on the Place Robert Fernier, the painter who founded this Courbet museum, I was shocked:

Very little of Gustave's presence in this beautiful building in the Loue valley, in the Doubs region.
So, I decided to paraphrase him or, better still, to parapaint him with my own images; he used to say:
«To paint a country, you need to know it. As for me, I know my country, I paint it. Those underwoods, they are my home, that river, it is the Loue, this one is the Lison; those rocks are those of Ornans and of the Puits Noir. Go and look at them and you will recognize all my paintings».
Therefore, I say:
«To paint a woman, you must know her. As for me, I know this woman, I paint her. Her thighs are my home, that river is the origin of the world, this is her poison; those curves are those of her belly and of her breasts. Go and look at them and you will recognise all my paintings».
So, I remembered the lesson:
« To paint the origin of the origins, you need to know them… »
And I found, or re-found, L'origine de l'origine (We are born from the mashing of 4 potatoes) thanks to that vegetable transformation and, thanks to a game of staging an apparition or through staging a vanishing, the proof is there: incarnation and metamorphosis: mutation, permutation and transmutation !
And I began my alchemy thanks to the Mona Lisa potatoes.
Julien Blaine, January 2017
Translated in English by Ann Cremin


GOLDEN AGE OF POETRY
We are in a Golden Age of Poetry, which began 50 years ago, as never existed before in the history of the world. Poetry flourishing and expanding in countless venues to boundless audiences. Festivals in every town in the Western world, and through the use of modern technology and the Internet, poetry reaches people on all levels in society everywhere in all forms.
Julien Blaine is one of the gods of poetry, who helped create the Golden Age of Poetry, as a poet and performer, organizer, promoter and producer, inventor and creator. His heroic endeavors, beginning before he was a leader of 1968 riots in Paris, guiding the strategies of the students, include organizing countless magnificent festivals of poetry in Marseille, Cogolin, Tarascon, and the great feasts of Ventabren. His work is brilliant, his poems and performances are the magical display of clarity, transcending concepts, and the absolute sound of his voice vibrates filling the universe.
Along with being a hero and a god of poetry, Julien Blaine is also an emanation of San Nicola, Saint Nicholas, Santa Claus, the Jovian deity radiating generosity, confidence, and the success of all possibilities. The relic bones of his predecessor are in a church in Bari. And it seems that Julien Blaine, born in Marseille, is also descended from the gods of the sea, deities living in the deepest oceans. You can tell by looking at him. He can't hide it.
John Giorno, 2007