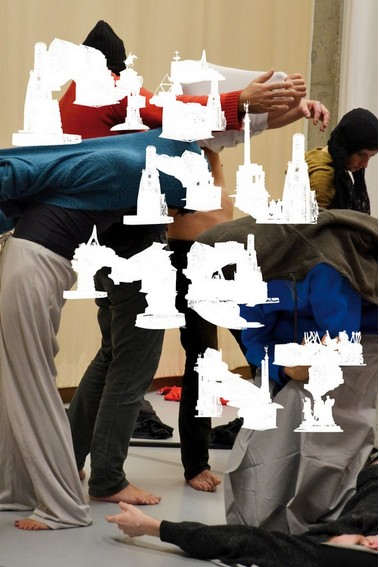 Monument
Musée des Beaux-arts de Calais (France)
8 March – 16 November 2014
How do contemporary artists from both sides of the Channel view the subject of the First World War – and war in general – in this important year of commemoration?
The Musée des Beaux-Arts in Calais and the Sainsbury Centre for Visual Arts in Norwich, with the Undercroft, Norwich, are three of four art institutions working together to produce Monument, a series of interconnected exhibitions of contemporary art in the cross-Channel regions of England and France. The project has been put together as a response to the centenary commemorations of the start of the First World War and the 70th anniversary of the Normandy landings.
Calais, which was devastated in the Second World War, its coastline still marked with defensive bunkers, has its own view on war. One section of the exhibition will be centered on these bunkers as monuments in their own right.
The Musée des Beaux-arts commissioned new works for this project and has selected pieces by 35 artists out of some 160 submissions. The exhibition will also include existing works from the Calais museum's permanent collection, and from the fourth partner, the Lower Normandy contemporary art collection (FRAC), in Caen.
The word monument exists in English and French, in both languages evoking commemoration and memory, grandeur and endurance. In France, as in Britain, tens of thousands of monuments to the war dead were erected after the First World War. The joint project explores the wider concept of commemoration, largely through sculpture, photography and video.
The brief to the artists was a very open one. They were not required to concentrate specifically on the two wars being commemorated, but to think about the qualities and associations of the monumental. Alternatively, they could consider the relationships between private memories and public expression and how quiet reflections may generate a monumental work of art, or indeed, how monumental qualities can be reduced to a miniature scale.
The selected artists have responded to the theme with great variety and creativity. While many of the participants have long careers and exhibiting history (John Cornu, for example, has had a solo exhibition at the Palais de Tokyo, Paris), there are also many fresh talents whose work may be unfamiliar in the UK. As well as many French artists, some Swiss and Germans, there are also works by London-based Liane Lang, as well as Mark Edwards and Matthew Miller.
Artists
Michel Aubry | Pascal Bauer | Benoît Billotte | Boris Chouvellon | Valérie Collart | John Cornu | Jocelyn Cottencin | Isabelle Crespo-Rocha | Antoine Durand | Mark Edwards | Leo Fabrizio | Régis Favre | Carole Fékété | Deborah Gardner | Jeanne Gillard & Nicolas Rivet | Rémy Jacquier | David Jourdan | Micha Laury | Michel Le Belhomme | Léa Le Bricomte | Liane Lang | Virginie Maillard | Matthew Miller | Tom Molloy | Paul Pouvreau | Gilles Saussier | Laurent Sfar | Studio Marlot & Chopard | Patrick Tosani | Sylvie Ungauer | Didier Vivien | Wolf Vostell
Curator: Barbara Forest
Practical information
Musée des Beaux-arts
25 rue Richelieu
62100 Calais
Tel +33 (0)3 21 46 48 40
Open daily, except Mondays and public holidays