Youri Vincy

presents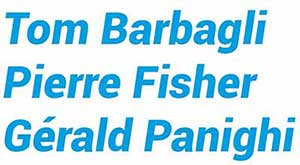 OPENING THURSDAY OCTOBER 13, STARTING AT 6PM

October 14 - November 19, 2022


Participation to Un Dimanche à la Galerie
organized by the Comité Professionnel des Galeries d'Art (CPGA)
October 16 from 2 to 6pm



The Lara Vincy Gallery takes pleasure in presenting an exhibition bringing together three artists: Tom Barbagli, Pierre Fisher and Gerald Panighi, three different personalities whose research area simultaneously differ and complement each other.


Tom Barbagli
Born in 1990 in Nice. Lives and works in Nice.
Tom Barbagli produces technological or mechanical devices, revealing the aesthetic of systems or natural phenomena, that he reproduces in installations, either in miniature or immersive versions, referring to space, stellar, planetary images. The force or fluid mechanics is thus thrown into an infinite motion, by gravitation, rotation or tension that summons the contemplation of a whole or micro universe.


Pierre Fisher
Born in 1983 in Paris. Lives and works in Cahors.
Pierre Fisher is a painter. After many years of practicing sculpture and collage, he chose to return to the more traditional art of painting. The images pulled out of vintage magazines and then aligned in his collages are now neatly transferred onto the canvas where they do not produce conventional paintings, even though they appear to be that, but rather collages of images achieved with a brush.


Gérald Panighi
Born in 1974 in Menton. Lives and works in Nice.
Gerald Panighi's work shows an interconnecting mix of a neatly deflected image with a strong connotation and a text diverted from everyday life's occurrences. The mismatch between the two gives rise to laughter or just a smile. Gerald's often brutal humor can also be sometimes of a dark nature, it focuses both on our humanely qualities and imperfections and, through the prism of his vision, we are thrown back into our personal thoughts.



With our thanks to the Galerie Eva Vautier, Nice.