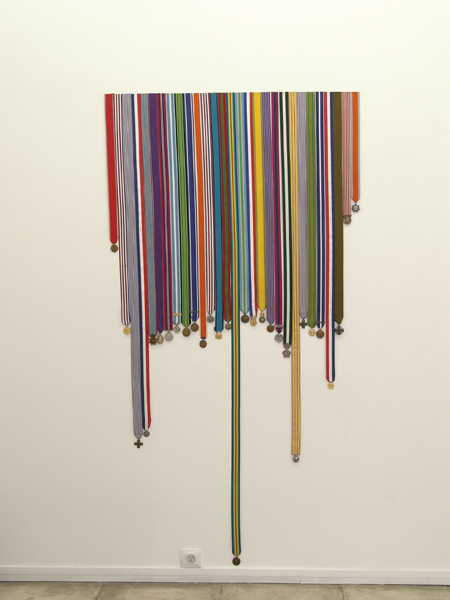 The Lara Vincy Gallery presents the first Léa Le Bricomte's solo exhibition in Paris, born in 1987, graduate of Fine Arts in Caen (ESAM) with honors in 2008 and 2010.

You have just entered a military area. If you are not wearing battledress, if you are lacking in munitions, if your stripes are not brilliant… never mind, as soon as you enter, your regimental number is enough to identify you as a visitor.
War Room is a fallback area, a reflection unit, an intensive training ground. Based on the name of the campaign HQ of François Hollande, candidate for the presidency in 2012, "War Room" is the christening name of Léa Le Bricomte's first solo exhibition in Paris.
It is a secure territory into which one enters in times of conflict, in order to recharge the batteries. Neutral in appearance, that is where are worked out subtle, conquering, strategies in art matters and where the usual symbols of authority and power are pulled out. It is on that ground that the explosive Léa Le Bricomte sows her little artistic bombs.
Between military ornaments and the aesthetics of power, there is no room for an aesthetic neutrality. You must choose your camp as soon as you get the invitation card.
On which side of the window is the visitor situated ?
It is through the window, tinged with the green of a tank, that the first sight of this exhibition appears to us. In our field of vision, we see a family armory from the Sixties. It is the armory where the artist started out, symbolically brought up within the core of an arms manufacturer. As a genesis of the artist's work, that photograph worms its way, like a foretaste of the exhibition awaiting us. For if "War Room" smells of sulfur and of canon powder, as it should, it also knows how to display its armed forces as well as its canons of beauty.

And in the guise of cannon fodder, a series of foxes prowl about like sentinels in the gallery. Placed in different positions, these wild canines with their silky red fur look like kamikaze-soldiers. However cunning they may be, they move forward secure within belts of bullets, inside a mine field, and we would not like to bet on their survival. It is not sure that, in those conditions, one might even be handed the ears and the tail of the animal as a trophy.

But at least, they will have earned a medal in their heroic struggle. The gallery wall pays homage to those military ornaments. Some "Dripping medals", those insignia of power, are spread out with prestige and distinction. The artist does not hesitate to hijack them, the better to make fun of them. A series of military crosses with outlandish ribbons are shown to the naked eye like genuine abstract paintings, drippings in the manner of Pollock, whose multicolored flows provide a genuine meaning to the word "decoration". A first degree that lightens us up and relieves us of the military hierarchies, codes and contingencies. Chevalier, officer, commander or grand officer, the "Ordre national du mérite" or "Légion d'honneur"… no matter the authority, as long as one has the exhilaration of colors and shapes!
And in that kind of military parade, outside the usual dates, no warrior-like attribute is spared. Torpedoes, small 22 long rifle bullets or big shells attached to large bran husks, small and large calibers are taken out for a demonstration of strength. Some even have unexpected appearances and go so far as to play with their status as fetishes. Pretty well all over, in the demilitarized zone, but that is highly sensitive, we find small bullets or large shells on wheels. These "Free rides" are shells from the 1914 war playing with our fears. Genuine military treasures, mine-swept and mounted on colored wheels. As if they were going forwards wearing camouflage, other shells are, in their turn, decorated with feathers and pearls, like Indian tomahawks. Each time, they look menacing in appearance but they are, in fact, totally Pop and without danger. At the crossroads of a modern war and of the period of the Westerns, we sway constantly between the wish to impress one's adversary with prestige, even as we camouflage ourselves with talent.

A target even provides us with the temptation to do some training. An archery session seems to be essential. To aim at and strike the very heart of the target is the stake. But, as fragile as can be, made out of glass, that stained glass-target puts our temptations to the test. A strange dilemma is created: to admire this work full of grace or to satisfy our desire for destruction ?

Léa Le Bricomte would probably, under her innocent airs, be able to manufacture a bomb in her kitchen. From the very start, in her bullet-proof pouch, within her numerous war treasures, she has, amongst others, handcuffs, carnivorous plants, fire arms, uniforms and stripes… as well as an army of snails at her service. That harmless gastropod, viscous and invertebrate, slides into some of her performances including "Snails invasion", that enables us to follow the trajectory of her little soldiers setting off to assault the body or else some little painted monochromes, gnawing the material and digesting it artfully. Since their bodily secretions recall human fluids, Léa le Bricomte reinvents body art. Between sweetness and violence, her art carries us off into a whimsical war, recalling us to life even as it scatters us with colors. An aesthetic battle is waged here. Between death pulsions and a survival instinct, Léa Le Bricomte has chosen her camp. In the minefield that is art, it is desire which triggers off this spirited œuvre every time.

Anaïd Demir

(translated in English by Ann Cremin

Legend : "Dripping medals", 2012, medals and increased military ribbons, 199 x 106,5 cms
A catalog with a text by Anaïd Demir has been published by the gallery on the occasion of this exhibition.


Recent exhibition (selected):

2012
- "Rêvons la ville", from May 16, Musée de Saint-Quentin en Yvelines.
- "Je ne veux pas être consommé trop vite", Anywhere galerie, Paris.
2011
- "FEU !", Galerie Le Préau, Nancy (solo).
- "Goth MLF" Galerie des Vertus, Paris.
- "What do you see ?", Bangkok Art and Culture Center, Thailand.
- Prix Science Po pour l'art contemporain (présentée par Anaïd Demir), Paris.
- Artparis 2011, Granville Gallery, Grand Palais, Paris.
2010
- "Grand Paris de L'art Contemporain", Abbaye de Maubuisson.
2009
- "Cure", Hôpital Paul Brousse, Villlejuif.
- "Smoke on the water", Aka Renga / Redbrick Housse, Yokohama, Japan.
2008
- "Gaude Mihi #2", Galerie du Haïdouc, Bourges.
2007
- "Watch your step", Wharf (centre d'art contemporain de Basse-Normandie), Hérouville Saint-Clair.